VMeter™ is a USB MIDI touch strip that provides nuanced musical control and visualization for DJs and other laptop musicians.
Blue LEDs react to volume, touch or MIDI. The versatile touch strip is actually several controllers in one, giving you new ways to "play" effects and tracks.
Multiple controllers in one provide anything from simple track fader to sophisticated virtual instrument controller.
Outputs include position, pressure, touch/release, note on/off, pitch wheel... Details
Control Windows XP, 7 and OS X system volume. See instructions for download.

NEW:

VU Meter display of sound levels and cpu usage meter (Vista+ only).

Super responsive touch strip for fast reactions, including ability to snap to new levels.
Blue LEDs can act like a VU meter, touch tracker, or even MIDI envelopes for animation. Dimmable.
Unlimited number of VMeters can be connected through powered USB hubs.
Fully configurable. (MIDI channel, ctrl #, Note #, etc.)
Native USB MIDI controller--control any music software without drivers, Win/Mac/Linux.

Firmware based on LUFA.

Programmers: use as a generic I/O device. Python tutorial and demos.
Compatibility:
The VMeter is a class compliant USB MIDI Device, which means that just about all software can receive data from it. Some software does not send data back out, so mouse changes to faders and automation don't playback on all software.
Here is a brief summary of testing, see the tutorials & compatibility page for more details.
Serato: Any software knob, more through xml midi maps. (requires approved Serato controller to unlock MIDI control)
Tracktor: Everything! Metering out, input control, multiple vmeters. tutorial
Ableton Live: Control any knob, VU Meter output with special plugins.
LMMS: Control any knob, fader or instrument. VMeter --> LMMS only.
Torq DJ Software: Full bi-directional support + VU outputs.
Reason: Control any knob or fader, VMeter --> Reason only.
Cockos Reaper: Anything can be controlled via Actions, visual feedback only for MIDI track recordings.
Sonar X1: Control any knob or fader, VMeter --> Sonar only. New: can be used as a visual metronome.
Logic Pro: Control any knob or fader, VMeter --> Logic only.
Cubase: Full bi-directional support, limited VU Meter.
Presonus Studio One: Full bi-directional support. Automation and mouse-changes show up on VMeter(s).
Resolume (Video DJ Software): Control any knob or fader, VMeter --> Resolume only. Pitch wheel mode not supported.
ProTools: Very minimal support. The fader controller numbers are hard-coded to 33-40, and pans on those tracks are hard-coded to 17-24. Some plugins let you "learn" a mapping, but not all plugins. No output back to VMeter(s).
GarageBand: Extremely minimal support. Volume and Pan control over currently selected track only.
Standard Keyboards: Unless your manual specifically says "USB Host", it's very unlikely that you can plug in a VMeter directly. However, the Kenton MIDI USB Hostbridge is an option.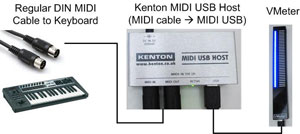 Volume control for PC / MAC: Hardware version A can be "downgraded" to our original firmware that let's the VMeter act as a volume control on a computer. Contact us if you'd like it.
"I assigned it to one track in Logic, using the location on the strip to control the panning like a pot, and the touch sensitivity to control the spread of the signal. It was pretty awesome! It's part of my toolbox now."

-Bob Lukomski, composer

"I use mine with orchestral libraries and the ability to simultaneously adjust expression and other parameters (for example Vibrato depth with LA Scoring Strings) is fantastic... I know lots of film composers who get very frustrated with the limitations of the Mod wheel."

1 min demonstration of VU Meter and CrossFader in Torq DJ software
5min demonstration of pressure sensitivity, pitch wheel, config utility.

Thanks to the Ableton Colorado User Group for some early prototype feedback and suggestions!